Principal, Cinden Lester
'Is this a word?'
As a youngster,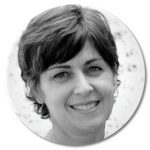 one of Cinden's favourite games was stringing random letters together to see if she could create words.
Growing up, she discovered the magic of books and spent much of her time in Narnia, a secret garden in Yorkshire and messing about in boats among the willows.
This love of words and curiosity about people and their stories led to a career in professional communications spanning more than 30 years.
Journalism
Cinden began her career in radio and television journalism. Back when mobile phones were the size of bricks and came with their own mini-suitcase battery pack, she ran around town covering everything from science, arts, politics and health to human interest and crime stories.
Public relations and marketing
After five years of reporting daily news, however, an interest in more strategic work prompted a move into marketing and public relations in the private sector.
Cinden studied marketing, jumped the fence from journalism to public relations and went to work with a national charity for youth at risk. She was responsible for developing communications plans, writing reports, articles and personal stories, managing media and events, and assisting with fundraising. After a year, she accepted an opportunity to move into government communications.
Government communications
Cinden worked in government communications for more than seven years. She enjoyed delivering communications advice and projects for two national cultural institutions and a federal government department.
She explained and brought to life policies and programs on topics ranging from broadband to ballet, and from telecommunications to travelling exhibitions.
Cinden worked with, and managed, teams including communications specialists, graphic designers, web experts, contractors and consultants.
Consulting
But with each step up the ladder, there was more managing and less hands-on communications work.
So in 2000, Cinden took the plunge and set up her own business to focus on what she enjoys most: working directly with her clients and producing top quality writing, editing and communications planning.
Expertise and skills
During her career, Cinden has gained a reputation for providing:
responsive, well-considered and insightful communications advice
targeted communications planning
user-friendly communications products and resources
creative, professional writing
meticulous editing and proofreading.
Remaining calm under pressure, she also has a reputation for being easy to work with and delivering—on time and within budget.
Cinden has the ability to think strategically and understand the 'big picture' while providing hands-on implementation with attention to every detail.
Qualifications
A member of the Public Relations Institute of Australia and the Canberra Society of Editors, Cinden has a Bachelor of Arts in Professional Writing (majoring in Journalism) and has also studied for an Advanced Certificate in Marketing.
You can find more details on Cinden's Linkedin page.
Professional network
Cinden collaborates with a select group of trusted expert colleagues as needed for specific projects.
Over time, she has developed excellent working relationships with various experts.
For example, her professional network includes:
other experienced writers, editors and communications strategists
graphic designers
video production experts
website designers and developers
multimedia developers.
Contact Cinden to talk about your next communications project.
Cinden is highly professional, a delight to work with, and very responsive to a client's needs.
It has been refreshing and enjoyable working with you Cinden. Your professionalism, timeliness and flexibility ensured a smooth process and a high quality product…a job well done.
From the initial briefs through to the final products we have found Cinden to always provide exceptional service, value for money propositions and be responsive to our needs.
Thanks for doing a fabulous job transforming it. I learnt a lot from your work about tailoring reports for the public. Very impressive.